Medium Russian Volume Eyelash Extensions
Medium Russian volume eyelash extensions are perfect option if you love a full and dark set of lashes. With approximately 500 lashes per eye, medium volume set will make your eyes very attractive. You will catch others' attention from the very first look. And of course, compliments come after. And we all know how the important the very first impression is. When you wear this set of lashes, life seems to be better and everything seems to be easier. It's all because of how beautiful you are. Thanks to its full and dark nature, this set is also a go to option for all your special occasions such as wedding, birthday or night club party.
Medium volume set is 100% customisable. On your appointment, we will consult with you about your personal preferences, understand your eye shape and the condition of your natural lashes. Then we will tailor the length, curl and shape of the lashes accordingly to deliver the best set of volume lashes just for you. At Lashury, we want to create flattering shapes and styles that will compliment your very unique features. Nothing too overpowering where the lashes become a distraction but just enough to shine your eyes.
What to expect
Our lash stylist will create and apply 5D-6D lash extensions fan to one of your natural. You will get a total of around 500 lashes per eye. The treatment will take about 1 hour 30 minutes while you relax on our comfortable bed, enjoy calm music, have a chat with our stylists or sometimes have a quick sleep.
The price for medium volume lash extensions is $159 for a new set. Touch up sessions to refill for naturally fallen lashes are needed every 2-4 weeks. The prices for refill will be lower depend on how long you have got the set on. For more details on touch up prices, please see our pricing here. 
Medium Russian Volume Eyelash Extensions Before & After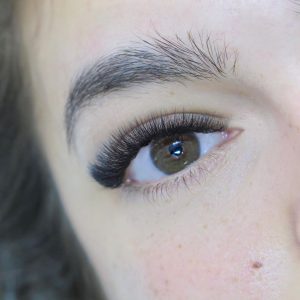 Book Medium Eyelash Extensions
Hannie was so nice and did an amazing job!! I got volume eyelash extensions and 10/10 recommend Hannie. She is awesome!!!!!

Louise Benoit

The place is clean, friendly and has a very relaxing atmosphere. My lashes look beautiful, so happy with them. Would highly recommend.

Ida McDonald