Best Keratin lash lift and tint Auckland. Lashury near me West Auckland CBD, Newmarket and North Shore, Takapuna. 
Keratin Lash Lift And Tint Auckland
Having your keratin eyelash lift and tint treatment done at Lashury may be your best lash-decision because:
Keratin Lash Lift and Tint lift and curl your natural eyelashes from base to tip so that you can see their full length. Your natural eyelashes will look longer, thicker and curlier.
The treatment are relatively low maintenance. Keratin lash lift and tint can last from 6 to 8 weeks depending on how fast your lashes grow. Aftercare is relatively simple, easy and quick.
Our stylists are experienced and skillful in providing lash lift and tint treatment. You can rest assure that the treatment will be a great experience and your lashes will look amazing.
A typical lash lift treatment in Auckland will cost you $129. However, we are having a special promotion and you can book with us today for only $69 and get a free lash tint session. Together, the two treatments will bring you a set of long, curly, dark and thick natural eyelashes.
We take pride in our services and ensure 100% customer satisfaction. Your lash lift will be free of charge if for any reason you are not satisfied with our service.
What is the Procedure for Lash Lift and Tint?
Our stylists will give you thorough assessment and consultation to determine your personal preferences as well as your natural eyelash status. Based on these information, we will pick a suitable curling rod size to shape your eyelashes. Picking a suitable rod is very important because we want to make sure your natural eyelashes look wonderful and stay healthy after the treatment.
Then, your eye area will be cleansed and the stylist will place a silicone rod onto your eyelids. The natural lashes are then curled over and attached to the rod with a safe adhesive to set the lashes. Once everything is positioned correctly, the stylist will apply lifting lotion to make your lashes mold around the curling rod and then setting lotion to set the lash shape.
You can expect the whole session to take around 45-60 minutes. Lash lift and tint treatment is also pain free and your eyes are closed during the whole sessions.
Keratin Lash Lift and Tint Before and After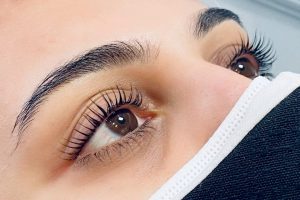 What is Lashury Lash Lift and Tint Price?
Normally, lash lift has a price tag of $129 in Auckland. However, you can book with Lashury 's special promotion today for only $69 and get a free lash tint. It is highly recommended that you have a lash tint together with lash lift so that your natural eyelash will not only look long and curly but also look darker and thicker. And we want to make sure that all our clients will get the best lash appearance after every treatment.
Do Eyelash Lift and Tint work on short eyelashes?
Yes, eyelash lift and tint work on both short and long eyelashes. Apparently, the treatment will help your short eyelashes look longer and darker. The treatment will lift and darken your short lashes and create a natural balanced long, curly, thick and dark eyelashes. If you still think your natural lashes are too short and still not sure if lash lift and tin will work on your short lashes. You can always visit Lashury salon for a free consultation.
What customers say about us
I had lash lift and tint done over a month ago.My lashes are fabulous and last so long. Hannie is so amazing and such a kind soul!

I recently had natural volume extensions done here. They look fantastic. Hannie is very kind and caring. I also love chatting with her. The studio itself is very clean, quiet and relaxing.,

Got my lash extensions done with Hannie and I could not be happier!! Got heaps of compliments. Thanks Hannie

My eyes are quite sensitive but Hannie was extremely gentle and caring. She also adjusted the light to my comfort. After three sessions with her. I can confidently say that my eyes have not been irritated once.

Hannie was so nice and did an amazing job!! I got volume eyelash extensions and 10/10 recommend Hannie. She is awesome!!!!!

I have a very pleasant experience of having eyelashes done here. I would highly recommend Lashury to anyone who loves to enhance their look with a set of eyelashes!

The place is clean, friendly and has a very relaxing atmosphere. My lashes look beautiful, so happy with them. Would highly recommend.

Hannie was amazing, I'm so happy with the results! I was so nervous as I had never had my eyebrows shaped by anyone else but she did a great job. I also got lash lift and tint done and they are fab. The price is great too thanks to the combo deal. I will definitely be back.

SHOUT OUT TO HANNIE! I am very happy with my lashes. Got so many compliments for my birthday. You really made my day. Thank you, Hannie.